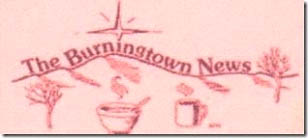 Burningtown News, Sunday, March 27, 2016

PRAYER REQUEST

Please remember the following in your prayers this week.

Lucy Mason Ken Shepherd Nell Duvall Welch Lori Impagliatelli Harry Henry Melba Martin Melba West Meredith Jones Clarence Scott
Linda Campbell Pamela West Bob Bryson Sue Martin Oweila T F Sue West Beatrice Deweese Wayne Powers Charles West Tom Needham


Please let me know if there are names listed above that should be taken off. Thank you.


ANNOUNCEMENTS

Rev. Brian Holland will be bringing the message Sunday, April 3. We hope you can attend this service. Also we have Sunday School at 9:45. George Taylor is the Superintendent. He will bring a good devotional.



ARTICLES, LETTERS, POEMS, PICTURES AND THINGS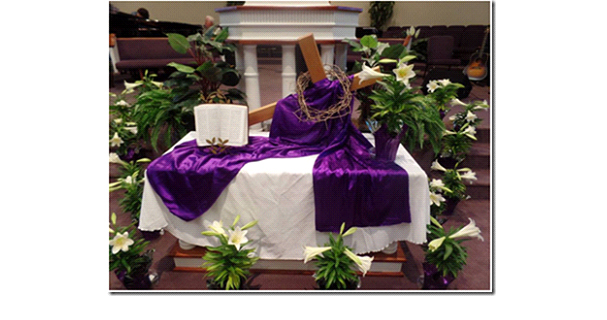 This is a photo of the Easter display at my church. I knew I wanted to share this picture but honestly am a bit overwhelmed when it comes to putting my thoughts into words today. I don't get news channels on TV so I read the news on the internet and I am so saddened today with what I have been reading.
Just to know what Jesus went through so we could be saved and to see the world focused on everything but Him. But He knew it would be like this, that people then and now hate Him and He still died for them so they can have life. Who do you know would do that for you? He didn't just die, He was tortured, beaten beyond recognition, spit on, mocked, had thorns placed on His head and nails driven in His hands and feet and then crucified. And while hanging there He said "Father forgive them, for they know not what they do". He asked for forgiveness for me. He suffered and died for me but that's all He did, He conquered death and hell and rose from the grave on that first Easter morning and He is seated at the right hand of God making intercession for us. That's love and that's why He did it, because He loves us. Below is the chorus to a song many will sing today and a favorite one of mine.

Have a Happy Easter and a blessed week! Donna Mathis

"Up from the grave He arose,
With a mighty triumph o'er His foes,
He arose a Victor from the dark domain,
And He lives forever, with His saints to reign.
He arose! He arose!
Hallelujah! Christ arose!"

- - -

"Do Not Worry About It. I Will Pay The Bill"
Larry Alan Reeves, Region A Long Term Care Ombudsman
Southwestern Commission- Area Agency on Aging

Horace was a good man. One would have had a hard time finding anyone that would have a negative word to say about him. He seemed to have a good, solid marriage. His wife and he raised two fine daughters and fine son. The daughters were successful in their chosen careers. Their son went into law enforcement and advanced through his department to a high rank. He was well thought of in his community, a good neighbor to all. In his local church, he served for many years as a deacon. He was shy, soft spoken, and dependable. He was the kind of fellow that could be counted on. In addition, he knew a lot about fishing for trout, using a dry-fly or a nymph. Horace was a good man.

He was born and raised in a rural area. He did some subsistence farming; growing tobacco and raising a few cows and calves. His father was a good carpenter. He learned from him the tools of the trade; although he did not use those skills vocationally. Horace supported his family by working for a well-known (now gone) dairy company. For several years he drove a "milk truck". In his later years of employment he worked (primarily) as a janitor for the company, keeping the ware-house and the dairy-bar as clean as possible. The dairy-bar was a favorite place for many to buy ice-cream, and ice-cream related (cones, sundaes, shakes, popsicles, and so forth) products. It was often crowded by folks that stopped by for refreshment.

An uncle and aunt of mine lived on the hill above the dairy-bar. Often times, as a lad, my parents would allow me to stay with my uncle and aunt during the day, particularly when school was out for summer vacation. There were some kids in their neighborhood to play with and my aunt did not mind watching after me while I played. The mothers of most of the other kids were at home. It was a safe and fun place to spend time.

One day, a friend of mine suggested that we slip off and go to the dairy-bar and get a banana-split a piece. At the time that seemed like a good idea so off we went, without getting permission or letting anyone know our plans. Arriving at the dairy-bar, we went inside, climbed up on a stool adjacent to the service counter, and ordered a banana-split each. We received our order and immediately dug in. It was wonderful! However, the lady behind the counter destroyed our moment of delightful enjoyment. We were about halfway finished eating when she placed a small piece of green-paper on the counter between us. Immediately I looked at the paper. With extreme fear, panic, and tear-filled eyes I looked at my friend; only to find him looking back at me mirroring fear, panic, and tear-filled eyes. Oh my! The lady behind the counter had written on the piece of green-paper that we owned $1.49 for our ice-cream indulgence. She could have written that we owned $20,000,000 as far as that goes! While we would not have had $20,000,000; we did not have $1.49 either. In fact, between the two of us we had absolutely nothing! Nada! Zilch! Not a penny! Oh boy! We were in a mess. Not only had we slipped away from the care of my aunt, and his mother, but we had a gigantic debt and no way to pay. Calling my aunt, or his mother, on the phone was not an option, particularly if we were planning to be able to sit down for the next month and a half. Gosh! What a mess we were in! Of course, it was no one else's fault. It was because of our own doing.

While sitting there on our stools, looking at our melting banana-splits, we knew the end was near. Just at our moment of total desperation, in the very midst of our time of despair, Horace did something for which I shall ever be grateful. Extending his hand between the two of us, he picked up that awful piece of green-paper. He put his arms around our pitiful shoulders and hugged us firmly, but not too tightly. Then he said, "Boys, enjoy your ice cream before it all melts. Do not worry about it. I will pay the bill."

For some reason, I remember that day and what Horace did along about this time of the year, every year.


ACTIVITIES OF THE WEEK


Bloodroot…another sign of spring that spring is on it's way to Burningtown!


One Wednesday MF went to Hardees and celebrated Otis Welch and Clarence Scott's birthday. Hazel brought a cake. Life is good when you can have cake for breakfast! MF got lots of money from the party goers. Al Raby gave MF one twenty dollar bill and Clarence Scott gave one dollar bill. Clarence and group revived the old yeller mule on the AT Trail tale. Here's a picture of Sharon with Clarence and Otis and the picture that she drew of the old yeller mule and a picture of the party group.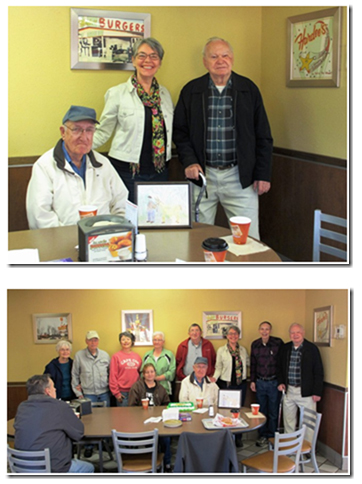 In other money matters this week, MF found a penny on top of generator and got five one dollar bills, three quarters, one dime and two pennies from Jim's shed. The money from the shed was put in the jar by Tom Welch, Bernard Huggins, Larry Fouts, Willard Barrett, Marilyn Roper, Jim Fouts, and others.
Sonny Taylor came to visit last Sunday afternoon. He stayed for a pretty good while but had to leave to take care of his little puppy. Maria Greene came on Monday afternoon and brought deviled eggs. She knows this is one of MF's favorite dishes. David & Kathy Ledford came Friday afternoon from Hendersonville. David is LF's nephew. Ruth and Ed Simonds came Friday afternoon also.

MF, LF, JG, LG, and Ruth and Ed went out to ST and GT's house for Easter dinner. We had ham, beans, asparagus, sweet potato casserole, rolls, coconut cake and lemon cheesecake. Here's a picture of ST's dining table. ST created a beautiful table with a basket of snap dragons and bunny napkins. ST wouldn't let anyone touch the bunny napkins until we had all oohed and aahed about their cuteness!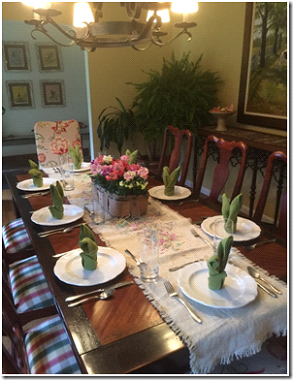 We hope you have a wonderful week.
Remember the poor man and his creative little wife on Lower Burningtown.

MF, Editor
LF, Operations Editor
ST, Circulations Manager
RO, Feature Story Author
NWO, Feature Story Author
AM, Arts Illustration Editor
RP, Photographic Editor
JK, Assistant Photographic Editor
DB, Copier
JB, Assistant Photographic Editor