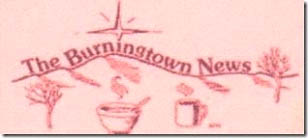 Burningtown News, Sunday, February 28, 2016


GOOD MORNING TO ALL THE PEOPLE ALL OVER THE WORLD,

CONGRATULATIONS
We are so in love with our Kason James! He was born at 12:22 on 2/20/16. He weighed 8 lbs 7 oz and was 20 in long. He is doing great! What a gift from God! Kristen Lynch

KASEN JAMES LYNCH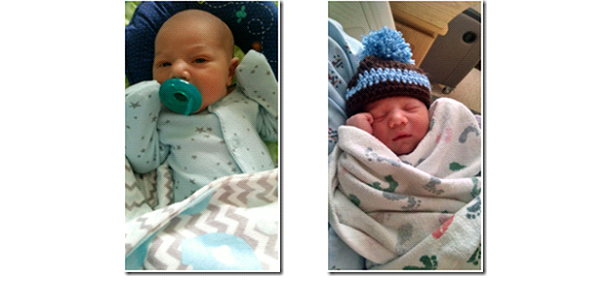 PRAYER REQUEST

Please remember the following in your prayers this week.

Lucy Mason Ken Shepherd Nell Duvall Welch Lori Impagliatelli Harry Henry Melba Martin Melba West Meredith Jones Clarence Scott Linda Campbell Pamela West Bob Bryson Sue Martin Oweila T F Sue West Beatrice Deweese Wayne Powers Charles West
Tom Needham


Please let me know if there are names listed above that should be taken off. Thank you.

ANNOUNCEMENTS

Rev. Brian Holland will bring the message on Sunday morning, March 6, 2016, at 11:0, at Burningtown Baptist Church.

--
From Macon County Library.
Wednesday, March 2, 2:00 & 6:00 p.m. "People Like Us" starring Chris Pine & Elizabeth Banks- While settling his recently deceased father's estate, a salesman discovers he has a sister whom he never knew about, leading both siblings to re-examine their perceptions about family and life choices.
Rated PG-13 for language, some drug use & brief sexuality; 1 hr. 54 min.

Friday, March 4 at 2:00 p.m. "South Pacific"
On an island during WWII, love blooms between a nurse and a Frenchman who's being courted for a dangerous mission.
2 hrs. 37 min.

Kristina Lynn Moe
kmoe@fontanalib.org
Macon County Public Library
149 Siler Farm Road
Franklin, NC 28734
828-524-3600

--

From Cadon Fouts who is a student at South Eastern Baptist Theological School in Louisville, KY. His wife is working in Louisville. We hope you will do your best to help them get a child.

Dear Family and Friends,

Many of you know that Erika and I are pursuing adoption. We believe that God has laid it upon our hearts to grow our family this way. We know that God has a special place in His heart for adoption. Passages like Romans 8:15, Galatians 4:1-7, and 1 John 3:1 point us to a God who loves and cares for his adopted children. We also know that God has called us as Christians to care for orphans.

It is for this reason that we are reaching out to you. We ask that you would pray for us as we seek to bring our first child home. We have partnered with Lifeline Children's Services, which is a Christian based organization. We are currently in the Profile stage which means that we could be matched with a birthmother who wishes to place her child for adoption at any time. We would ask that you would pray for the birthmother's safety. Many of the women who contact Lifeline are often in difficult situations. We would also ask that you would pray for her salvation as well. We ask that you would pray for the health and safety of our future child though we don't know who he or she will be, our heavenly Father knows him or her already.

We would also ask you to consider how the Lord might lead you to give financially. The total cost of the adoption is between $26,000 and $28,000. We do not know the exact amount yet because each adoptive situation is different, and different states require different things. Up to this point we have raised a little more than $9,000 through church yard sales, fundraisers, donations, t-shirt sales, and side jobs that Erika and I have picked up. The numbers seem overwhelming to us, but we have seen the goodness and faithfulness of God at work. He has laid it upon the hearts of family, friends, and church family to aid us in our endeavor to bring our baby home. If 150 people were to give $100 each we would almost reach our goal! Please prayerfully consider helping us in this way.

If you feel like the Lord is leading you to give financially and you would like to remain anonymous you can mail a check to Farmdale Baptist Church. The address is 1238 Durrett Ln, Louisville, KY 40213. In the memo line of the check write adoption fund (the church cannot accept checks with our name in the memo line). On a separate sheet of paper specify that it is for our adoption. Gifts given to Farmdale will also be tax deductable if you decided to go that route. You can also write the check directly to us and mail it to us at 1333 Trinity Park Dr, Louisville, KY 40213. Checks written directly to us will not be tax deductable. If you have any questions please call us. My number is (828) 371-9910. Erika's number is (828) 421-2534. If you don't have any question you can still call us!

We have a potential match and she is due March 9th. There is some uncertainty in the matching process, which means that we may not be chosen for the placement of this child. It is, however, possible that we would need to raise the full amount by that date. We know that all of this is in God's hands and that in his timing everything will work out for our good and his glory.

Thank you all so much for your prayers over the past few years and for your continued prayers. We hope this letter finds you doing well.

Love,
Cadon and Erika


ARTICLES, LETTERS, POEMS, PICTURES AND THINGS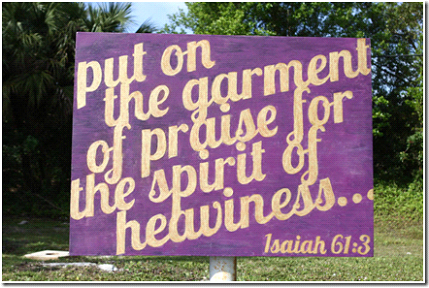 "God said He would turn it around, God said He would turn it around. What the devil meant for evil, God will make it good, turn it around, turn it around, turn it around." I woke up yesterday morning singing this song and it brought Isaiah 61:3 to my mind which says, "....to give unto them beauty for ashes, the oil of joy for mourning, the garment of praise for the spirit of heaviness...". As I was reading this verse, it dawned on me that I do not need to see the big picture. What I mean is we have some things we have earnestly been praying for and we had it in our mind how we "thought" it was going to work out. Well things are not working out that way but they do seem to be working out. That made me ask myself the question' "where is my faith?" Is my faith in the person? Is my faith in what I thought would be? Or is my faith in God, where it should be? This was an eye opener for me. If I have faith that God can work something out, I must have faith to see the situation through and not get discouraged when it's not going like I thought it should. I have to shake myself out of those heavy clothes of despair that the devil wants me to wallow in and put on my garment of praise because "God said He would turn it around." Thinking about my faith brought some more verses to mind I would like to share....
*Matthew 6:30 Wherefore, if God so clothe the grass of the field, which to day is, and to morrow is cast into the oven, shall he not much more clothe you, O ye of little faith?
The last one sums it up real good, *Hebrews 11:1 Now faith is the substance of things hoped for, the evidence of things not seen. Amen & amen!!! I started with a song so I will end with one, "Have faith in God, He's on His throne, Have faith in God, He watches 'or His own. He cannot fail, He must prevail, Have faith in God, Have faith in God.'" Have a blessed week! Donna Mathis :)

-

"You Can Say The Most About Nothing Of Almost Any Person I Know"
Larry Alan Reeves, Region A Long Term Care Ombudsman
Southwestern Commission- Area Agency on Aging

A required class for me as a freshman student at Berea College (Berea, Kentucky) was titled "Issues and Values". It was an interesting class. During the course of study we did lots of reading, research, discussing, writing on a wide variety of topics, and lots of debating with one another concerning the issues of study. We studied our families, our historical heritage (as students from the Appalachian Mountains), race, faith, economic forces, environmental responsibility, racial and gender injustice, poverty, politics, peace, war, violence, and the list went on. The intent of the course was to help us students examine our value systems and to understand the ways we apply them to living in the world of "our day". Sure, we read history, but only to see the sources of the values we live by in our day and societal- cultural context. We, also, read many of the contemporary writers of the day in order to gain from their insight and to ponder the significance of their messages as we were trying to figure out how we were to fit and to impact the world around us. Upon, reflection, it was a good and practical experience.

One of the assignments for the class was to form debate teams. The professor assigned the topics we would be debating. The teams were to do all of the stuff involved in preparation for the debate and to practice. On the predetermined day the teams would square off and the debate took on a life of its own. I do know remember the specific topic my team was chosen to debate. I do remember we worked hard to be sure that the research on the subject was comprehensive. We practiced debating each other on the team as we readied for our big day. With each practice round we became more confident and better prepared. For me, this was my first "formal" debating experience. Sure, I had been in a number of arguments before; but I was not graded by a PhD. for my ability to argue, until then.

Finally, the day arrived. At the appointed time and place the two opposing teams gathered for the big event. Each team had four students. Each student was to be given less than five minutes to make their case. A member of the opposing team was given a two minute rebuttal. Once every student had their turn the professor would open the debate to a rhetorical free-for-all. Well, my team went at it as hard as we could. The opposition fired back at us in a fast and furious manner. It was exciting. It was fun. It was exhausting. Eventually, after about ninety minutes it was over. Both teams did well.

Following the debate the professor offered his critique. He was (mostly) encouraging and complimentary. He praised our preparation, our mastery of the subject, our use of the facts and figures we had gathered to support our case, and our displayed abilities to "think on our feet" when challenges were lobbed in our direction. However, the scholar in him came to the surface as he took our arguments apart, point by point, and piece by piece. It was both an exalting and humbling experience, all at the same time.

Upon dismissing the class for the day he called my name, asking for me to remain behind once the other students left. Meekly, I approached him when everyone else had departed. He asked me to take a seat. I did so, in fear and trembling. He then offered some reassurance as to my efforts during the debate; stating I had a good presentation style and spoke with clarity and confidence. Then he said, "Mister Reeves, you can say the most about nothing of almost any person I know"

For some reason I recently thought of this experience while watching "formal debates" on the TV.

Larry Reeves
Long Term Care Ombudsman
Region A, Southwestern Commission
125 Bonnie Lane
Sylva, North Carolina 28779
(828)586-1962, ext. 223
FAX (828)586-1968
www.regiona.org
larry@regiona.org

"I love the unimproved works of God." (Horace Kephart

--

COUNTRY MOTHERS, CORNBREAD AND HOT BISCUITS
By: Roy Owenby


When I was a kid, I loved biscuits and gravy, cornbread and blackberry cobbler. I also loved pinto beans, onions, hot biscuits with butter and homemade syrup. This is the short list. The long list would probably bore the reader to tears. The plain fact was, I loved food, and I wasn't particular about where I got it. In those days, every woman in Nantahala was an excellent cook. They started cooking at their mother's knee before they could read. Both my grandmothers learned from my great-grandmothers, and they taught all their daughters essentially the same way to cook the same kinds of food. In those days, fast food was what we snitched from the warmer over the kitchen stove. Say what you will, but those old wood cook stoves were major contributors to the delicious taste of country cooking. In the absence of central heating, they also served to keep the kitchen warm in cold weather. In hot weather, Nantahala moms opened the doors and windows. Of course, the flies got in the house, especially with at least a half-dozen kids coming in and out.

All my cousins have a long list of stories about their mother's home cooking. I can vouch for a lot of them because I was there many times to help them eat. Typically, a big family had benches at the kitchen table instead of chairs. Because there was little snacking between meals, the family was almost always famished by the time the meal was spread out on the table. When the mom stepped out on the porch and called the kids in, there was a mad rush to be the first one to slide in on the benches. Of course, any kid who didn't wash his or her hands and face before sitting down got pulled away from the table by the ears. This was a real motivator for washing.

Usually the first thing to come off the stove at breakfast was a big platter of hot biscuits. Close behind came a big plate of eggs, usually over well, followed by fat back meat, bacon or sausage in good times, warm syrup, sawmill gravy, jellies and jams, fresh churned butter, steaming hot coffee and fresh milk. The blessing was always asked and family members took turns. Despite their hunger, kids knew better than to grab for things. As a rule, the family dad started the serving, first his own plate and then, one by one, passing the other items around until everyone had been served. In good times, there was plenty to eat and everyone filled up, knowing that a hard work day lay ahead.

In the summer time, everyone worked in the fields, including the mother. Around eleven a.m., she would put down her hoe and head for the house. She would stoke up the coals in the cook stove and add wood. By the time she mixed the cornbread, sliced the potatoes, poured out quart jars of beans, corn and other vegetables, the stove would often glow a cherry red. If meat was to be served, it would usually be fried ham or fatback. Sometimes, home canned sausage would be added. As soon as she called the family in, one or more of the kids would be sent to the springhouse to bring up the butter and milk. In the summer, the entire family often went out into the fields to pick fresh berries. In winter, desserts usually came from canned fruit; apple, rhubarb and peach pies, blackberry, cherry and strawberry cobblers. On special occasions there might be chocolate cake. Kids who were good got to lick the spoons after the cake was put in the oven. When the meal was over, everyone rested for a few minutes and then headed back to the fields, the barn, workshop or whatever needed doing. The mom stayed in the house and began clearing the table and washing the dishes. If there were older girls in the house, they might stay to help. In those days, that was woman's work and the men didn't help out unless the mom was sick. Once the dishes were washed and put away, mom and the girls headed back to the fields.

After an afternoon of backbreaking work, the mom would head back to the house to begin preparations for the evening meal or supper as we called it. In the summertime, this was shortly before dark. The cycle started all over again. By the end of the day, everyone was famished. In hard times, the family might just have cornbread and milk. In good times, the table was, once again, filled with delicious food and the aroma was enough to make a kid's stomach turn over. There might be both cornbread and biscuits. Fried potatoes, fresh corn-on-the cob, green beans, turnip or mustard greens, pickled beets, fresh home-grown tomatoes, okra or squash and green onions filled the table from one end to the other. If there was dessert, it might be rhubarb pie or strawberries and cream. Of course, the workday was not yet over. Cows had to be brought in and milked. Horses, mules or oxen had to be fed and put in the barn. Pigs had to be slopped. Chickens had to be fed and closed up to keep the foxes from getting them. Finally, dishes had to be washed and pots and pans scrubbed. Left over bread and a few other items were stored in the warmer for next day's eating. Left over butter and milk were carried back to the spring box or spring house.

There was no such thing as bedtime snacks. No one raided the refrigerator because there wasn't one. Meat was salted down in the smoke house. Canned goods were kept in the can house or cellar. Potatoes were stored in the cellar or buried in a "tater hole" underground. Meat was rarely left over from a meal. If it was, it was thrown in with the scraps and given to the hogs or dogs. Despite the hardships, the difficulties of storing food and the backbreaking work that went into feeding a family, meals were healthy and delicious. Unlike today, everyone ate together at the same time or they didn't eat. In good times or hard times, people were thankful for what they had. They never hesitated to share with neighbors, friends or relatives. After an eighteen hour day, the mother of the house would finally get to lie down for a few hours. Too soon, morning came, and the routine started over again. Day after day, seven days a week, they labored to feed their families. And yet, they loved every minute of it, and when they reached old age, they looked back and wished that they could do it all over again. We men owe them a debt of gratitude that can never be paid. We should all thank God that he did such a good job of creating country mothers.
--


AN EVENING WITH THE STATLERS
By: Nita Welch Owenby


When my former husband, Dave, who has been deceased for many years, and I lived in Hendersonville, we owned a floral business. I worked at a Savings and Loan, but when we got a long weekend at the bank, I would pitch in and help with the designing and care for the potted plants; mostly dish gardens. One weekend when I was off, it seemed that we were going to have a normal couple of days at the florist, until we got word that a very prominent gentleman in town had passed away. People started swarming in to place orders, and orders also started coming in from all over the country on the new computer we had recently installed. I got stuck with the computer or waiting on a difficult customer who drifted in now and then. The florists preferred to stay in the back and design the arrangements, since they couldn't talk back to the rich elite. They were a great bunch to work with, so I worked where I was needed most. And, that was usually dealing with the echelons and cussing the new computer that no one understood.

This took place late on a Friday evening and everyone accepted the fact that the floral work would be coming in until the service on Sunday. I happened to remember that Dave and I had tickets to see the Statler Brothers at the Asheville Civic Center. There was no way he was going to get free from the florist, and it was too late to get a refund on the tickets. I'm sure I could have sold the tickets, since the Statlers were very popular back then. However, I got to thinking about my sister, Sue, and the fact that she and I had not gotten out together in quite some time. I gave her a call and, as usual, she was ready to go anywhere, and especially to hear the Statlers who were among her favorite singers.

It was late in the winter and the wind outside was cold enough to freeze icicles on one's nose if it wasn't covered up. I picked Sue up about 7:00 p.m. in Arden where she lived and we headed out to the Civic Center. Sue was always a bundle of laughs and we had a wonderful time. However, while we were eating our $5 bag of popcorn and sharing a large $4 Soda, we didn't realize it had started to snow. I had parked the car on the top open deck of the parking building, since that was the only place left when we got there. I wasn't very good at driving on snow and ice because there was very little of it around home when I was in my teens. Sue was on a special medication that kept her in la-la land most of the time, so she couldn't drive. When the program ended, we started leaving the main section of the Center. Somehow, we got separated, and I just knew Sue was going to get lost, for we had to take an elevator up three or four levels to find our car. The crowd was packed around me when I finally reached the elevator. When the doors opened, the elevator was crammed full in about two seconds, so I waited my turn. Finally, when it came down for the seventh or eighth time, the doors opened and there stood Sue all by herself, grinning like the proverbial possum. Since I was the only one left, I jumped in and we headed up to the parking lot.

Most of the vehicles that had parked on top, especially those with snow tires or 4-wheel drive, had left. That did leave several bare spots around the lot where the other vehicles had been parked. I just hoped that I could use those spots for traction to get my old yellow Malibu off the top. Then it would take a lot of prayers to get it back to Arden, and then back home. If I had been Sue, I would have stood on the sideline and waited, but she crawled in the passenger's side, with great faith that I would get us down to the street, safely. I was just hoping it wouldn't be over that little brick wall that edged the parking lot. I backed the car out very carefully, and as soon as my foot hit the gas, one would have thought someone had turned an octopus loose on ice skates. I did crazy eights; U turns and barely missed the three cars that were still in the lot, trying to get out safely. I finally hit bare concrete with two tires and got enough traction to get my car back under thirty mph. When I got the car under control, I was actually lined up to go down the ramp to the next level.

All those other vehicles that had already gone down had turned the ramp into pure ice. I eased up to the top of the ramp and all I could see was concrete pillars on the lower floor. I knew when I hit that ice it would be back to 60 mph, then a sudden stop at the bottom if I hit the brake pedal. I turned to tell Sue to put a pillow in front of her face, but she already had one wrapped around her head. I figured her medication had worn off. When I got all four tires on the ice, it was like being on a one-ramp roller coaster. We went down the ramp so fast that the tail of the car bounced off both sides. I just knew we were going to rearrange the whole top of that building. When the front tires hit bare concrete and my foot hit the brake, the tail of the car passed up the front making at least 20 mph. I just closed my eyes and prayed as I waited for the crash that never came. The back missed the concrete pillar about two inches and when we came to a dead stop, the car was in the middle of the covered lot.

Sue and I had totally forgotten about seeing the Statlers. I knew there was no way I was going to attempt to drive to Arden, then back to Hendersonville. Not that I was worried about us, but it would have been too dangerous for the other people on the road. We went down to the Civic Center Office and I asked to use the telephone, still shaking like a burned-out Hula Girl. I called Dave, but he was gone on a delivery run, so one of his drivers volunteered to come and get us. Morris was a good old soul, but he had been around longer than most of the buildings in Asheville. By the time he dropped Sue off in Arden and got me back to the florist shop in Hendersonville, I swore, under my breath, that I would never get in another vehicle with snow and ice on the ground. The last I saw of Sue, she was belting out one of the songs by the Statler Brothers. I still love to hear songs by that group, but when I hear one, for some strange reason, my teeth start chattering and I could probably still do the hottest Hawaiian dance that has ever been witnessed.

Ah, but those were the "Good Ole' Days!"
--

ACTIVITIES OF THE WEEK

The first name I should mention in the news today is Alan Mashburn. I haven't seen him this week but he is still working at Ingles.

Our family was together Sunday afternoon and Monday night. Here is our picture. We had finished a good supper of Lamb meatloaf, asparagus, potatoes, rolls, and brown sugar pound cake. GT and ST had brought us the lamb meatloaf and asparagus and the good sauces to go on top of them.


FROM LEFT TO RIGHT- Sharon Taylor, Lucille Fouts, Lynne Garrison, Merritt Fouts and Judy Jones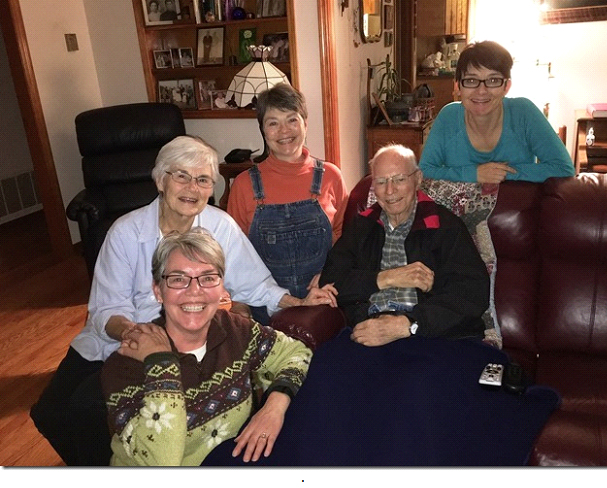 I didn't think I should have been in the picture but as you can see there were four against one.

JFJ and I visited Jim's shed on Tuesday morning. LF had to stay at home to cook us some dinner. She fixed up some fried potato cakes, green beans, with and pickled beets, canned peaches with cottage cheese, and Oreo cookies. We enjoyed that very much.

Jim gave me three one dollar bills. Larry Fouts, Marilyn Roper and someone else had put the money in the jar. The second time I was at Jim's Shed he gave me two one dollar bills, three quarters, one dime, two nickels, and three pennies.

While we were out there, Ricky Queen came in. They sat around for awhile, except Rick stood up, then Jim wanted to get together and sing. He wanted to start a group called THE SHED-ERS. He figured Rick and Judy would be the best singers he could get to help him. So he began picking his banjo and Rick and Judy began singing. You ain't never heard such good music in your life. Here is a picture I took of them working on the song, "DIXIE." They will are going on a tour. I don't know exactly where they will sing first but when I find out, I will let you know. You won't want to miss them.

THE SHED-ERS MAKING MUSIC THE SHED-ERS, RICKY QUEEN, JUDY JONES, AND JIM FOUTS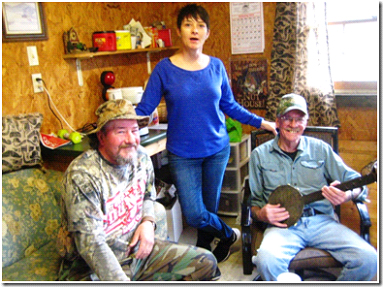 The picture was taken at the end of the first round. Rick and Jim had stopped singing, but Judy wanted to make sure she was getting the practice so she kept singing.

JFJ came back home and began work on a sign for the Poor Man On Burningtown. The first picture below is of JFJ and the completed sign. The second picture is of: Ricky Queen and Jim Fouts. Ricky was the first one to put money in the jar. There is a need for many people to put money in the jar so go visit Jim's Shed and put some money in the jar. Please.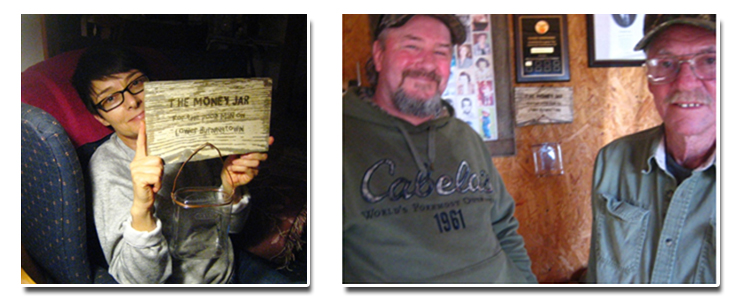 We had company Wednesday night so neither of us went to church. LG went to town to get us some Pizza. GT and ST came in right before we started eating. We could not have started if she hadn't come in with the Pizza but she did so we began eating. It was very good Pizza. We also had a salad, sliced apples, bread, cake and cookies.

Thursday morning we got up and enjoyed a breakfast of homemade pancakes LF had made. We sat around at the table and talked for awhile. JFJ got ready to go back to Florida and left our house along about 9:30 a.m. She went through town and stopped by Mainspring Conservation to talk with ST. Then she left for Florida along about 11:30 a.m.

Saturday we had a new recipe LF had made up. The recipe is: tortilla sheets, mashed cooked peas purple hull, sour cream, salsa made and canned by LF, shredded cheddar cheese, LF put shredded lettuce on hers, but I did not. It is a flexible recipe and many of the items can be changed for example, you could change the peas to some other type beans or peas, and you might not want salsa on yours or change the type of cheese.

LF has gone to church this morning.

Here is beautiful picture from our Staff Photographer, Ralph Preston


Church of the Cross in Bluffton, SC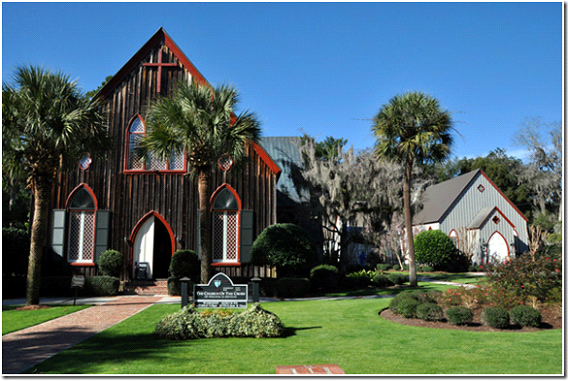 We hope you have a wonderful week.
Remember the poor man and his instructive little wife on Lower Burningtown.

MF, Editor
LF, Operations Editor
ST, Circulations Manager
RO, Feature Story Author
NWO, Feature Story Author
AM, Arts Illustration Editor
RP, Photographic Editor
JK, Assistant Photographic Editor
DB, Copier
JB, Assistant Photographic Editor